It took a pandemic for all of us to recognize what our clients in paper products categories have always understood: paper products are more than just a commodity purchase! We have deep feelings about our paper goods brands (especially those in toilet paper and paper towels), particularly when we went to the digital and physical shelves during the height of COVID, and they were empty!
Even as issues of supply and demand have eased a bit, brands have fundamental questions around how packaging contributes to a paper product brand being chosen and placed in a consumer's cart.
At Behaviorally, with over 50 years of experience in shopper marketing across all categories – including paper products, we have a lot of expertise understanding the role that effective packaging plays in driving shopper growth. We measure pack effectiveness against a simple set of behavioral KPIs: your pack must be Seen, Shoppable, Seductive, and Selected. We also look at all the elements of pack design with simple criteria for success: does the pack design effectively communicate Benefits, making choice easy, or is the pack introducing friction and Barriers to shopper choice.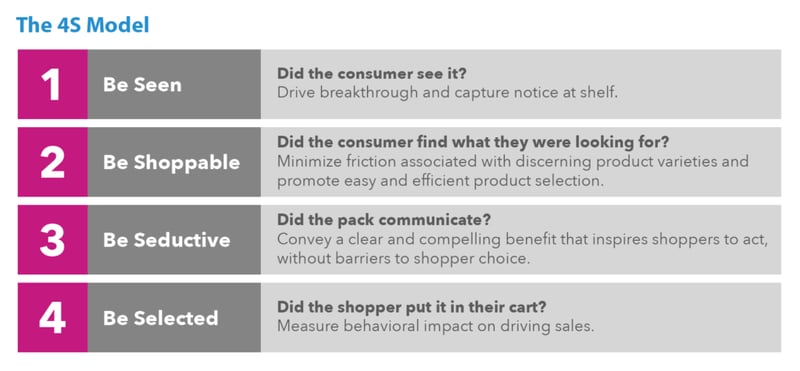 First, let's look at some of the good news for the paper products category: The paper goods aisle in physical retail provides a larger footprint relative to other categories for both the shelf and the pack itself, and there is a lot more real estate for the pack to perform as a beacon for being Seen, our first KPI. In theory, this can lead to a much larger palette for displaying key elements like recognizable brand assets that unconsciously drive consumers to a trusted brand.
However, in digital e-commerce, shelf real estate isn't as favorable. During the pandemic, online toilet paper sales increased 231%, with availability being the key driver of choice. Thumbnail images of paper products on a landing page literally do not convey the total picture, so your busy e-commerce teams have to be super focused on identifying and optimizing images on the product detail pages.)
Next, back at the physical shelf, when it comes to our second KPI, being Shoppable, your pack must convey easily and quickly that it is the product that fits shoppers' needs. This is particularly challenging with paper products where there are arguably too many variant choices that all "feel" similar (e.g., select-a-size, absorbency power, number of sheets, ply, etc.). Shoppers, who typically spend seconds at the shelf, are often frustrated by the need to carry out calculations to make their ideal choice – known as "toilet paper math" or "paper towel math" (i.e., making pack comparisons across double, jumbo, mega, etc. sizes, via "equations" such as 6 jumbo rolls = 12 double rolls, 9 mega rolls = 36 double rolls, etc.).
Our first recommendation for brands to drive the shoppability KPI is to keep it simple. And, of course, to test your assumptions that your pack is setting you up in the best position to convey that winning value formula. But this is also an opportunity to reinforce other Shoppable characteristics: Unique structures or roll assortments that better meet a shopper's needs and/or provide differing storage options. Or, for example, differentiating with packs for facial tissues which invite being displayed throughout the home.
In leveraging the 4s model, it might be hard to think of a paper goods product as Seductive, but think of this third KPI in our model as a means of measuring if a pack conveys positive emotions through friendly and evocative imagery. This might reinforce quality claims for paper products, such as soft, gentle, and/or tough and robust.
Increase the potential for being chosen by encouraging new occasions that can lead to increased usage and consumption through clever imagery and visuals. For example, "tear-a-square" leans into the idea of using paper towels as napkins during mealtimes. Make sure your engaging designs draw on familiar elements associated with the brand even if you update them (like the Brawny lumberjack, who is still recognizable even though now we focus primarily on his iconic plaid shirt). Of course, the most important metric of all is Being Selected – which is a function of your pack conveying the Benefits that make choice easy and not introducing Barriers to being placed in the shopper's cart.
With over 50 years of shopper marketing experience, we are the ideal partner to help you test and validate if your packs will influence shopper choice to your advantage. To learn more about the 4S model, read our free e-book, "The Power of Packaging to Drive Shopper Growth," and share it with your teams. Chapter 1 focuses on "The 4S Framework: Be Seen, Shoppable, Seductive, and Selected". All the chapters contain best practices, client examples, and case studies to help you understand what makes packaging effective at driving shopper growth.
In addition, for those client-side professionals focused on winning in digital retail, Behaviorally's newest division, eFluence™, offers incredibly efficient solutions to address the challenge of optimizing images on your e-commerce product detail pages—our revolutionary Flash.PDP™ product leverages AI-based vision computing for image recognition and Behaviorally's unrivaled database of pack and product images to provide identification and metrics for optimizing e-commerce images that convert to sales. Learn more at https://efluence.ai/
Don't hesitate to contact us today with any of your packaging or shopper behavior questions so we can help you be Selected at shelf, or to schedule a custom-tailored presentation for your team on pack insights.
THE AUTHOR
Matt Salem, SVP Client Development, loves researching anything and everything – professionally and personally! As the host of Behaviorally's 'Our Best Behavior' podcast, he speaks with guests about a variety of topics tied to Driving Shopper Growth. Through the experience and perspective of various roles over 18+ years at Behaviorally (formerly PRS), he excels at ensuring clients successfully uncover shopper insights.