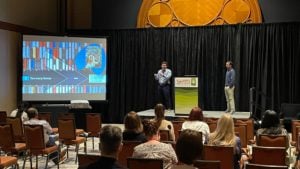 We have all been itching to get back to in-person events after more than 2 years of pandemic-inflicted isolation from our industry colleagues. The first of Quirk's 2022 three-city in-person research events happened last week in Chicago. Whether it was networking, reunions with colleagues we haven't seen except on Zoom, or hearing about the latest developments in market research technology and insights on insights, the event was received quite enthusiastically.
Content on res-tech and platforms to support research took a wide swath covering everything from DIY survey automation and companies specializing in things like knowledge management, and tech for mining social media to identify consumer trends.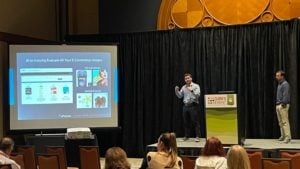 Case studies revealed a shift in mindset within brands where instead of buying big & expensive research projects that address many issues, client-side researchers now seek bite-size research addressing one or two questions. These can be leveraged to validate spot decision making as well as rolled up and synthesized through the application of sophisticated analytics to reveal broader insights into larger more strategic challenges. An analogy we heard sums it up well: a shift from buying a large Black Forest Cake to mini cupcakes.
Some topics that were once more hype and buzzwords than practical parts of the research tech tool kit were not front and center in the presentations we heard. As an example, all platforms showcased seemed to have some sort of AI integrated. Perhaps it is because savvy researchers have evolved the view that AI analytics tools are mere "table stakes" for the ability to synthesize large datasets, and what counts is when AI becomes the definitive path to solving problems that couldn't be solved before. What was articulated more ubiquitously was the need for getting reliable answers to specific business questions quickly, efficiently, and cheaply, whatever the tech tools behind the insights.
There was a lot of discussion around the need for "humanizing" data and pairing qual with quant to provide much more 3-dimensional insights and answers to clients' questions. It is always good to see, particularly after a period of time during the height of COVID, in which in-person qual was difficult if not impossible. Our perspective, reinforced by this conference is that there may be a renaissance of qual solutions, particularly those that harness and even evolve the hybrid and online solutions that are available.
A number of the sessions addressed diversity and inclusion and the industry initiatives for addressing these critical issues. We heard about efforts to design survey questions, and even tactics for respondent recruiting and screening, that would make results across all research more inclusive and representative. And of course, there are a lot of exciting things happening to bring a more diverse workforce into the research industry itself.
From those presenters hinting at the "next new thing," we heard mentions of the roles the "metaverse", blockchain, and even NFTs may play in the future in marketing and branding, and how client-side marketers are experimenting with using these emerging technologies for retail and brand building. But it is early days, so not much is definitively known about how and where they will be useful, especially in research.
What was definitive was interest in solutions to make e-commerce as effective a channel for retail as brands can make it. So, Behaviorally's own presentation on the application of AI image recognition for the optimization of clients' product pages in digital retail was well received. And we distributed QR codes for attendees to receive a copy of our e-book on The Power of Packaging, highlighting our decades-long expertise on best practices and the role packaging plays in driving shopper growth.
Chicago is always a fun place to catch up with old friends in research and meet new practitioners, so the event was great fun. Many thanks to Quirk's for a terrific return to the in-person conference scene! Looking forward to more in the near future.
For a link to the conference presentation or more about the Behaviorally solutions for optimizing shopper marketing, contact us here.
Cliff Kane is the Senior Vice President of Market Development at Behaviorally. Cliff is passionate about the world of Shopper Behavior (and how we Define and Diagnose it). He has worked on or led over 800 consumer behavior research initiatives in his insights career (including directly interviewing over 10,000 consumers "at the shelf" and he enjoys cultivating the next generation of clients for our agency. Connect with him on LinkedIn.
Ruben Nazario is the Vice President of Digital Shopper Innovation at Behaviorally's new technology division, eFluence™. He has over 12 years of experience in the insights industry and is a strategic, solutions-oriented leader with a creative problem-solving approach. He has been at the forefront developing innovations to gather in-depth consumer insights with a keen interest in e-commerce and omnichannel shopping journeys. Ruben has lived in Mexico City, New York City, and now currently resides in Atlanta. Connect with him on LinkedIn.