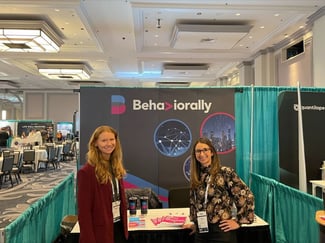 Held in the heart of downtown Chicago the week of 6th Nov., the IA CRC conference brought together industry leaders, innovators, and experts to explore the evolving landscape of market research. The event, packed with insightful sessions, unveiled valuable knowledge that transcended traditional boundaries. From embracing change, to problem-solving like magicians, to delving into empathetic design thinking, the conference painted a holistic picture of the dynamic forces shaping the industry today. Let's embark on a journey through the key learnings that define the essence of IA CRC 2023.
Embracing Change: Your Extraordinary Future
In the session, "Your Extraordinary Future", attendees dove into a powerful exploration of change and its profound impact on market researchers. It was evident that building bridges of familiarity amid innovation is key. The definition of what remains constant in times of change serves as a beacon, guiding researchers to connect with consumers effectively. Embracing imperfections as opportunities for growth emerged as a mantra for success in the ever-evolving landscape.
Problem-Solving Magic: A Fresh Perspective
"Problem Solving Like a Magician" encouraged attendees to unravel daily challenges with a fresh perspective. The session outlined steps for effective problem-solving, urging professionals to eliminate assumptions, focus on the problem at hand, and seek diverse opinions. This 'magical' approach aims to turn information into facts, enhancing both time-management and efficiency.
Human-First Approach in the Age of AI
Understanding the decision-making process in an era dominated by AI was the focus of, "Creating Value with a Human-First Approach in the Age of AI". The DDPE method, introduced in this session, provides a structured framework for acknowledging the complexity of decision-making processes. Deconstructing choices, Describing with data, Prescribing friction strategies, and Embracing experimentation were unveiled as actionable strategies to navigate the intricate web of consumer decisions.
Gen Z-centric Strategy and Strategic Brand Launches
Sessions hosted by Ulta Beauty and Mars highlighted the importance of understanding demographic perceptions and preferences. Ulta Beauty's Gen Z-centric strategy emphasized the need for an open-minded approach to learning about a specific demographic, fostering profound connections beyond surface-level assumptions. Mars shared insights on successfully launching a new brand for gamers, stressing the importance of tailoring strategies to resonate with the unique preferences of the target audience.
Categorical Leadership and Sustainable Innovation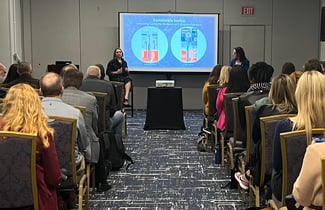 The session featuring Manscaped and Colgate-Palmolive delved into multiple effective strategies employed by industry leaders. Manscaped's success in men's grooming care emphasized the significance of understanding consumers through using language, educational tools, and humor to connect with new and returning users - with the key to success being understanding the consumer and bringing a voice to a conversation no one wants to talk about. Colgate-Palmolive addressed the challenge of changing consumer behavior in functional categories, advocating for sustainable product launches and strong calls-to-action. Cherie Leonard from Colgate-Palmolive emphasized the importance of consumer education, highlighting that it should start well before reaching the shelf. The key is to integrate education seamlessly into ongoing conversations and underscore the need for context-specific research to align consumer intentions with in-store decisions. Cherie added, "It is our responsibility to have the right things on the shelf for our future."
Empathetic Design Thinking
In a world filled with diapers, milk, and candy, the art of empathetic design thinking is reshaping the way brands connect with their customers. In a discussion featuring industry leaders from Kimberly-Clark, Fa!rlife, and Mars, the spotlight was on how these companies leverage design thinking to create products that tap into the emotional needs of their consumers.
Examples such as Kimberly-Clark's "Poop Scanner" app highlighted the importance of understanding and addressing emotional needs (new moms providing the best care for their child) as they are as crucial as meeting functional requirements (not more fuel – less barriers). Fa!rlife initially centered its products around the motivating consumer problem of weight loss. However, as consumer mindsets evolved towards a holistic wellness approach, Fairlife adapted.
While Kimberly-Clark and Mars delved into specific product examples, Ana Plasencia, the Global Director of Innovation at Mars, shifted the conversation to the internal dynamics that fuel transformative thinking within teams. Plasencia emphasized the necessity of fostering a culture where teams feel empowered to fail.
The discussion among these industry leaders illuminated the power of design thinking in driving empathetic innovation. By understanding the emotional needs of their customers, companies can create products and foster internal cultures that resonate with people on a deeper level, forging lasting connections between brands and consumers.
Conclusion
The IA CRC conference in Chicago transcended traditional conference structures by providing a holistic view of the challenges and opportunities in the market research landscape. From embracing change to problem-solving magic and empathetic design thinking, the event left attendees with a deep understanding of insights to weave into their professional journeys. As the industry continues to evolve, these key learnings serve as guiding lights for market researchers navigating the ever-changing currents of innovation and consumer dynamics.
Interested in learning more? Contact our team to find out how we can help you hone these learnings and own the most valuable moment in marketing: the purchase transaction.
THE AUTHOR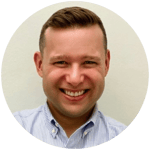 Joe Corace is a Senior Vice President with Behaviorally, leading our dynamic office in Chicago. When he's not working with clients on how to own the most valuable moment in marketing (…the purchase transaction), he can be found working on his golf game out on the course.